4:45PM – We Have a FinTech Hackathon Winner!
4:30PM – Prize for best use of Caplin Technology
The winner was a team calling themselves FinGraph – they did an interesting visualization of quoted companies that created a spider diagram showing their key supplier/partner relationships (e.g. Apple and AMD). They used a Cypher (a query language), a framework called OpenShed (for the visualizations) and used our public facing server to retrieve our data.
4PM – Demos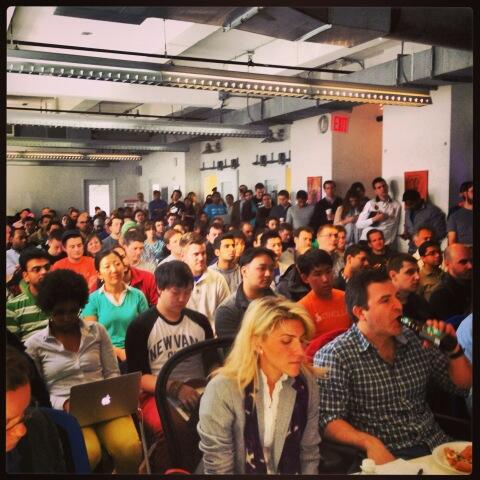 The venue is absolutely packed for of the demos and there was certainly some really cool stuff on show.
Here are some tweets from the event:
Caplin worked together with OpenFin and did a demo of an alert notification application for trading (more pics to follow later)

2PM – Last-Minute Hacking
The demos will be shortly starting and there's some serious last-minute hacking going on within the various teams!
12:30AM – Late Night Hacking
The numbers have dwindled down quite rapidly over the past hour and quite understandably so but there's still plenty people in the venue.
In the morning teams will have up until 12 noon to polish up their demos before presenting to the judging panel to compete for the $10,000 cash prize.
10:30PM – Stilling Hacking Strong
As caffeine struggles to maintain it's effect on the Hackathon attendees, it's great to see that there are still plenty of people hacking through the night.
Competing hacker teams have to register via Hacker League to be considered for prizes tomorrow afternoon.

7PM – Dinner and More Hacking
Dinner has been served together with the additional fuel of beer and ale as we enter evening time.
Some quick observations:
The teams are definitely hitting their stride now
There's notably less casual chat on the couches
Charting and data visualization seem quite popular
Still a good solid number of people hacking away, I'd estimate an approximate 75% of what we started the day with
We're out of Caplin FinTech Hackathon t-shirts to give away
4:30PM – Caplin Workshop
We've just finished delivering our workshop presentation which delved down into our products and in particular, the features of BladeRunner.
The talk was well received by attendees and I feel they appreciated that we were open about the WHY factor in a lot of what we do.
Verifier kindled some particular interest – being able to test your JavaScript code in an isolated and reliable manner with fast feedback loops across multiple browsers.
2:30PM – More Hacking and Workshop Prep
There's a good chilled out vibe about the event so far, lots of couches filled with with fellow hackers engaging in conversation. I've even spotted a few drawing what looked like UML diagrams.
We've had engagement with a few teams so there's a likely chance we'll be getting more involved as the event goes on.
We will be doing a short workshop session at 2:45PM where we'll be going through simple code snippets to talk to people about our APIs and how to get streaming data.
On a side note, I think we've run out of the large sized Caplin FinTech t-shirts.
1PM – Lunch, Caffeine and Cookies
The lunch queues were a little scary but the food was good – Mexican! Tacos, tortilla chips, dips and sauces.
Our caffeine needs are well catered for, I believe there's now a large ice container filled with redbulls – no less than I'd expect for a 24hr hack event.
11:45AM – Hacking Time!
The presentations have just finished and the event is now fully underway.
Early observations:
Some people are just jumping straight in
Others are brainstorming ideas and trying to decide which API/products they want to use
10AM – Tech Partner Demo Presentations
We've just finished our presentation and the visuals of some of our products definitely caught the eye of the crowd!
As a little incentive, we're giving $500 worth of Apple vouchers to the team who makes the coolest demo using our products.
Additionally, we've fashioning some serious cool attire!
The t-shirt above and 8GB USB memory are available from us at the event. Apologies to the OpenShift guys we interrupted to mention that our USB can hold more data than theirs!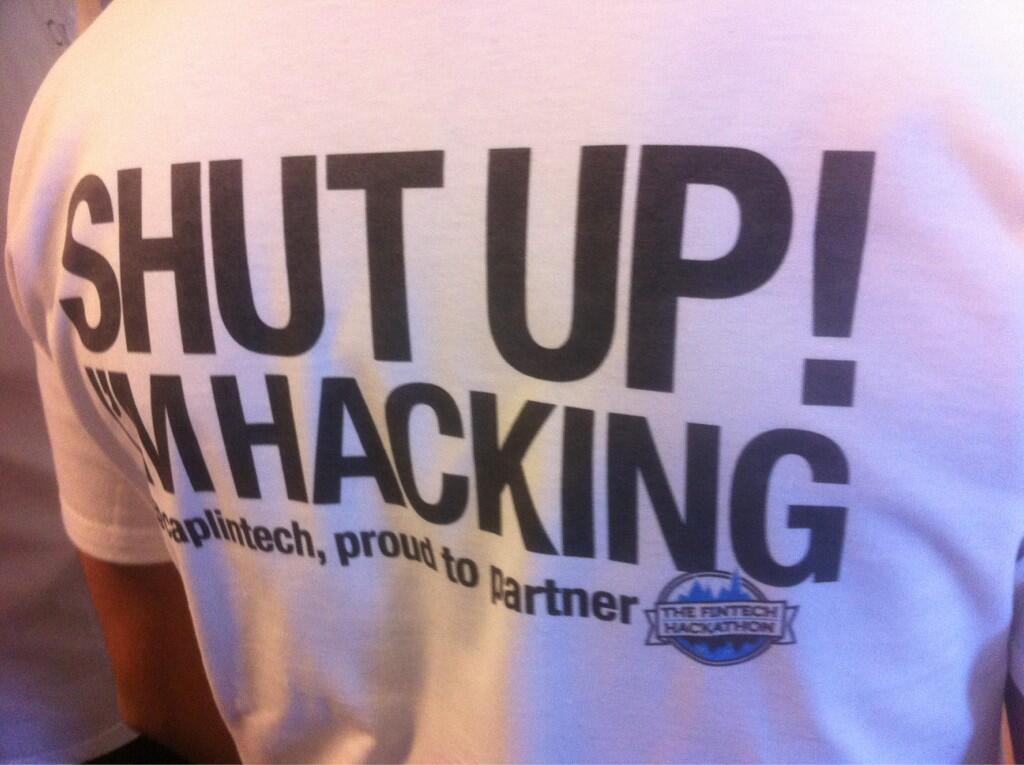 9AM – Prepped and Ready
As the venue at Alley NYC slowly starts to fill with the hackathon attendees, we've just been finishing up our slides for our demo.
All attendees received a free FinTech t-shirt upon entry!